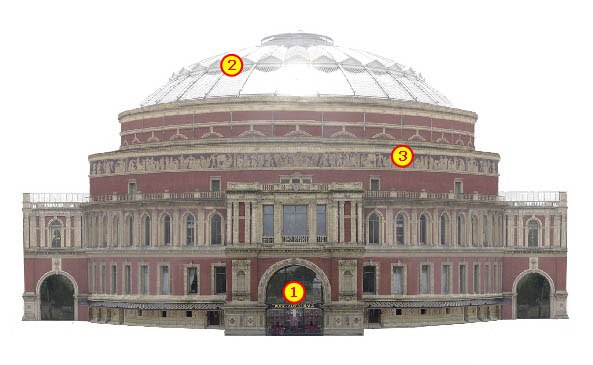 > This view shows the North porch (1) which faces the Albert memorial in Kensington Gardens. The Albert Hall is slightly oval-shaped, not circular, and this viewpoint shows it at its narrowest.
> Until quite recently, the Royal Albert Hall was the largest music and entertainment venue in the country, with room for up to 8000 people. The Docklands Arena can accommodate nearly four times this number.
> On the other side of the building the South porch stays open throughout the day for access to the box office, the shop and restaurant, and tours of the building.
> The iron and glass domed roof (2) of the Albert Hall has always caused serious problems with the acoustics, and has been corrected by hanging various types of reflectors and diffusers from the ceiling. The present fibreglass 'saucers' are the most successful to date.
> Before 1888 and the installation of electric lighting, illumination of the hall was by limelight. Cylinders of lime were raised to 'white' heat in a gas flame.
> The terracotta frieze (3) depicts the 'triumph of the arts and sciences'. The long inscription above the frieze. starting with 'Thine O lord', goes right around the building and finishes with 'and on earth peace'
> The Royal Albert Hall is famous for hosting the annual BBC Promenade concerts (the 'proms').
> The Royal Albert Hall website can be seen here.