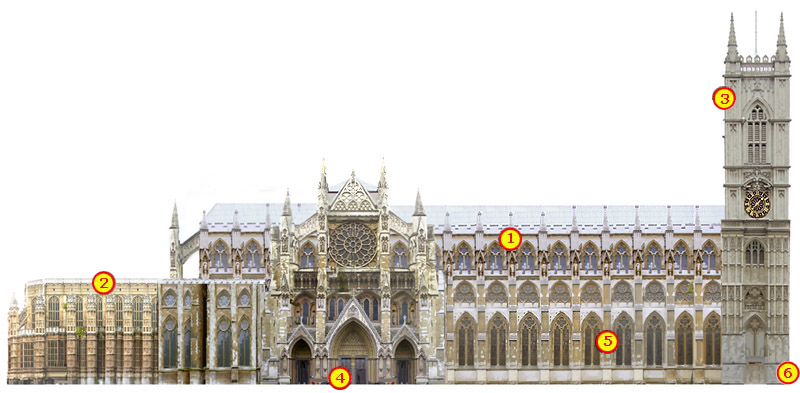 > The gothic-style of Westminster Abbey was inspired by the huge cathedrals that were appearing in France from the middle of the 12th century. Flying buttresses (1) made it possible to support the roof more than 100 feet above the ground without needing massively thick walls.
> Paid for by Henry VIII, The Lady Chapel (2) at the east end was a later addition to the abbey. It has an astonishing fan-vaulted ceiling. At the west end, the grey stone towers (3) by Nicholas Hawksmoor, were not completed until 1745.
> The visitors' entrance is in the North transept (4) under the rose window. Once inside, the high altar can be seen directly ahead at the heart of the abbey, and in front of the altar is the intricate Cosmati marble pavement. One of the Latin inscriptions here states that the world will end after 19,683 years.
> The windows in the nave (5) have been dedicated to famous people over the years including engineers Brunel and Stevenson. All around are tombs and memorials to the great, the good, and the not so good. Because the privilege of an abbey burial depended on wealth, the impoverished poet Ben Jonson was buried upright to save on the cost of floorspace.
> Westminster Abbey has not in fact been an abbey since Henry VIII and the 'dissolution of the monasteries', and although the name is still used, it is more correct to call the building a church (cathedral-sized).
> Today the royal occasions, coronations and burials that take place in the abbey show that connection between church and monarch survives. The Queen is head of the church and at her coronation in 1953 she proclaimed herself 'defender of the faith'. The coronations go way back to William the Conqueror who was crowned on this site on Christmas day in 1066.
> Outside the west door (6) is a circular memorial to victims of oppression, violence and war, and just inside is the Grave of the Unknown Warrior.
> One of the oddest burials in the abbey is that of Thomas Parr, a farm labourer who won Royal patronage by claiming to be 152 years and 9 months old. His white marble gravestone can be seen in the South transept.
> The Westminster Abbey website can be found here.